One of the first and easiest way to begin building your business is by conducting home staging consultations. Last week I dove a little into vacant listings, simply because I got so many questions about how to build your inventory for vacants. You can read all about that here. But, I highly suggest to begin with occupied consultations and occupied "hands-on staging." Occupied listing consultations is the best way to get your feet wet before taking on vacant listings. Also, you can build your inventory while conducting occupied consults by renting out smaller one piece items. Not sure what I mean, head on back and read last weeks post. Okay, when it comes to home staging consultations you can offer two price point options.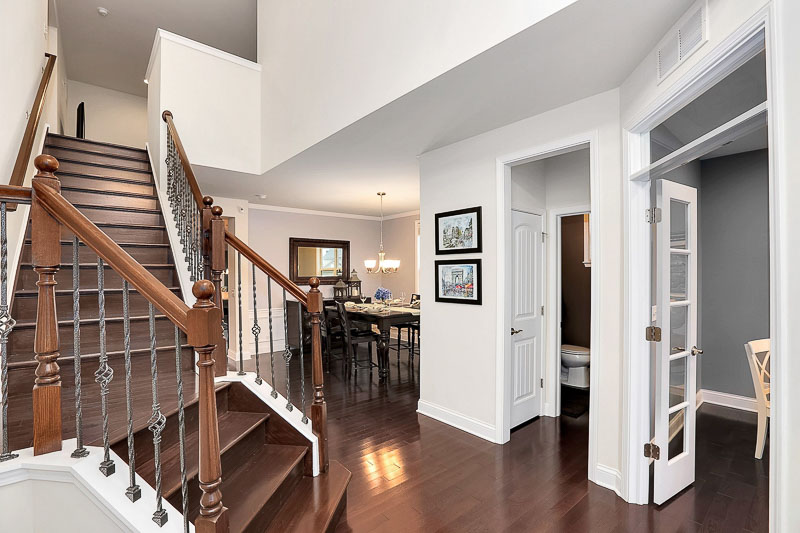 What is a Home Staging Consultation
But first, what exactly is a home staging consultation? It is a very detailed discussion, advice and review of what needs to be done to the property before the sellers list it to guarantee the best possible price. Their investment in a consultation will also be less than their first price reduction, which I strongly push anyone to understand. On average, price reductions are in the thousands. So, why wouldn't you invest in a consult that can range between $150-$425, depending on size and condition. All the best realtors in my area offer home staging consultations by a professional stager. Do not believe that realtors should be doing their own staging consultations. It is two very different fields and they should be working on marketing and selling, while you handle the behind the scenes. That is why it is extremely important to build long lasting relationship with a few key realtors. BUT, don't stress if you have not, because 70% of my occupied staging consults are pre-realtor. Which already means I have smart sellers. They want to show the property as best as possible before a realtor prices it. They might even ask you for realtor recommendations which you will build over time. (Tip: I always provide a realtor's name from 3 different brokerages).
Well, now that we know a consultation is a detailed, very detailed, review of a property. What does it entail and how do you, as the home stager, go about pricing consultations. I offer two price point consultations, the walk n' talk or the full report.
Walk n' Talk
That walk n' talk is exactly that. You talk while they take notes. I have had clients that literally video tape the entire thing on their iPhone while another takes detailed notes. You always, always start OUTSIDE the front door. Completing the same route a potential buyer would. First impressions are critical so we spend a great deal of time discussing the walk up to the front door, entry, foyer, and any spaces upon first glance. Then, we begin walking through the remainder of the property, open every door, every closet, looking up and down and all around. Making sure no corner is left unturned. On average, they take 1.5-2hours. Homes larger than 3,000sq take 2-3.5 hours. I always let the clients know that I am available after the consult for questions via email and text. They are free to send me photos of a space and ask, "is this okay? Is this space ready?" For my standard walk n' talks (1.5-2hours) I charge $210. It is not just for your time but for your expertise. I answer any and all questions and discuss everything from mirror placement to paint color options when and where needed. I always implement staging tips I have learned from courses, for example, the importance of mirror placement, or what are the paint colors trending for certain spaces in your area / market. There are many insider staging tips that Realtors just don't have access too, make sure you use them. Lastly, for properties larger than 3,000sq feet, I will charge between $275-$325. Remember, you charge for your time onsite and I calculate in travel. I only do consults in my area now, i use to travel up to an hour for consults. I use to take any and all jobs. If you are starting out, I think you should. So, calculate your travel time into the cost. IF you are now able to just stay local (around your area) and your travel time is under 15/20 minutes do NOT add in that time.
The Full Review / Report
This is exactly what was in the walk n' talk, but the clients do not take any notes. You, as the home stager, take detailed photos of the all the spaces. I have left consults with over 300 photos on my phone. I am taking photos / panoramic's of the room (iPhone) while telling them what I would do if I were to come in with my assistant and stage. I do not reveal paint color options, or detailed choices, like light fixture options, because it will be covered in the report. These usually take 1.5-2 hours (not longer) because I let them know the report will have everything. Now, I have had reports as long as 70 pages. They are extremely detailed, room by room, with photos of the spaces. I charge $275 and up depending size and condition of the property. Condition is key, you can have a 4,000 sq.ft property that might show ready, a few things are needed, so it takes less time. And then you might have a 600sq ft condo that needs a lot of staging review, furniture re-placement, decluterring, and repairs. Those reports take longer to create, as a result, I always make sure to let potential clients know that size does not always matter but condition as well. I know many staggers that do not offer reports because they feel it is too time consuming. I disagree on two points. One, I am a hand-on, paper to pencil person. I like to have a to-do list and cross things off. That is my report. Room by room, space by space check off list. Many clients, in the chaos that is preparing a home for sale appreciate a detailed report. Secondly, it doesn't take that much time if you start with a template and not a blank document. I use a template and plug in from there. Lastly, and most important, I do not charge a flat fee, I calculate my time onsite and offsite (creating the document) into the final fee. I know many staggers that do not like to do reports is because they charge a flat fee and land up spending way too much time on the report, hence, it isn't worth it. Well, that is why you have a flat fee BASE and not a flat fee.
Like always, send me your questions. I try to answer them all here at Home with Keki. Happy Staging.

The post What is a Home Staging Consultation appeared first on Home with Keki.
Source: homewithkeki.com